Here I am in the library for the umpteenth time this semester already. This time, I am in the juvenile section.. oooooo. :P Anyways, I have been doing some research for my Children's Literature class. I am enjoying looking at all of the books. Among the thousands of books to look at (I wish I had time to read them all) I found a few cute ones that I thought I'd post. Mainly just for my memory.
Library Mouse
Library Mouse is a story about a mouse named Sam that lives in a little hole in the library. He sits and waits all day long, then at night he comes out and reads all sorts of books. One night, he decided that he would write his own. So, the next few days, the mouse produced many little handmade books that the adults, children, and librarian loved. The only problem was, they didn't know who Sam was. The library left a note asking Sam to come in and do a "Meet the Author" day. Sam was confused as to why the others thought it was so difficult to write stories of their own... so, Sam set out a tissue box with a mirror inside and a banner saying "Meet the Author". This encouraged the children to create their own stories.
There's a Cow in the Cabbage Patch
This one is just a really cute rhyming book with great felt illustrations. It's kind of catchy too.
"There's a cow in the cabbage patch, moo, moo, moo!" "She should be in the dairy, what shall we do?" There's a dove in the dairy, coo, coo, coo!" "He should be in the birdhouse, what shall we do?"
















Ducks' Don't Wear Socks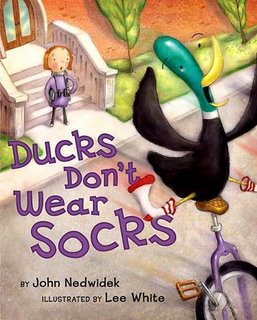 This books is about a little girl that starts out being very serious and meets a very un-serious duck, who does ridiculous things that he enjoys without being embarrassed about being himself. In the end, the girl learns to not take things so seriously and starts enjoying life and finally smiles.
Well, there ya' have it. I have been looking at books for far too long! (But, also not long enough... I could do this all day) But, I really need to get going on other homework.